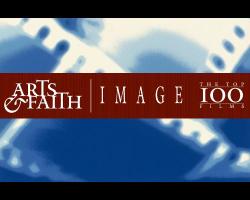 The gang at
IMAGE
/
Arts & Faith
have counted all the votes, and the 2011 list is now fully on display! Check out the latest iteration of the Top 100
Here
.
I can't say enough about how this forum, these people, and lists such as this have shaped and changed me for the better. They have expanded my worldview, challenged me to a higher plane in my viewing habits, taught me about the morality of forms of cinema, and all the while let me grapple with words like "Christian" and "spiritual" along the way. This is a cutting edge group grounded in the traditions of faith and cinema, intentional about better viewing, better thinking, and better living. I am glad to be a part of this community, and I'll do and be my best to preserve the beautiful thing we have.
Voter turnout this year spiked from 44 to 65 votes -- another record turnout and more representative of the community as a whole, though over a thousand are currently registered.
This year we created a "three per director" rule to make way for several areas we may have overlooked in the past. Dreyer, Bergman, and Kieslowski are still represented, but the seven Bergmans on last year's list left a bit of a bad aftertaste. (Although I must admit, I kinda liked it.)
We created another rule that some of us have since changed our minds about, that all films must be feature-length. This has stricken Brakhage from the list, which, for a list that originated with the words "spiritually significant" attached, is a devastating loss. Through the absence of Brakhage and shorts, we've apparently also lost our link to the world of abstract film. It's my hope that this is a temporary issue which will be corrected in the next vote; the list lacks balance with the absence of a few of the shorts, and abstract filmmaking in particular.
The Top Ten basically stays the same from year to year, but two remarkable things happened in 2011:
Ordet
was dethroned for the first time in our history (and I am aghast, although it was dethroned by another Dreyer, so that does help the pain in some small way); and a new film came out of nowhere, cracking the Top Ten and landing at number six -- the first time I remember this happening. The reason for the latter is a multitude of voters who were introduced to the film in 2010 (myself included); the reason for the former is impossible to determine. (I think it was rigged.) (OK, I am joking when I say that, but I believe it must be some strange anomalous occurrence, that's the only explanation I can come up with.)
Another first: this year we took a vote on a separate list of a genre specific twenty-five. The idea is that we'll be doing this from time to time. Our first genre specific vote was horror; the list is
Here
, and I believe it is the finest list of horror films I've seen. I used to think I was a horror aficionado, but looking at the seven films I've not seen makes me think I might have been a bit haughty in that self-assessment. Regardless, this is the finest list of horror films I've seen from a bunch of Christian critics and bloggers.
The cherished and esteemed Stephen D. Greydanus has a perfect introduction to the new Top 100
Here
, and the respected and appreciated Jeffrey Overstreet, a friend whom I've previously praised here, has the Intro the the Top 25 Horror Films
Here
.
I've added blog-spots for my contribution as well; I wrote three blurbs for the Top 100 and they're reprinted here at Filmsweep. I also scratched out a few sentences about the horror films, too, so check it out whenever you get the chance, and be certain to check out as many of these wonderful films as you can!