As always, this is a personal list of films that most resonated with me in 2010, which I'm inclined to say was a pretty good year. You know it was good when you're hard pressed to leave some of your favorite movies off the list. Countless apologies and films I missed are left as an end note at the bottom of my Top 10.
The selection of movies which qualify as 2010 is questionable on the list below. I try to stay in the time frame in which they were either released or had a festival run in the US, but that criteria doesn't always apply. Numbers 10, 9 and 3 are prime examples of my non-compliance with the known year of release -- in fact #3 was nominated for an Oscar last year, however it only first showed up on Midwest screens in Chicago in late winter/early spring 2010. That said, I blog for my own growth and make no claims on being some kind of professional critic (and probably couldn't make those claims even if I had the time to try it) -- as such, the film year will qualify for whatever films I see fit.
Enough balking. On to the list: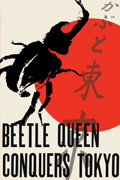 10. Beetle Queen Conquers Tokyo.
The microverse is alive and breathing and willing to teach, and captured in all its glory in this enthralling documentary about Japanese insects. Easily the most poetic of the films I've seen in 2010, like beauty found in a short script of haiku, it relates the great power in the minuscule, where Shinto philosophy is related through bugs. The natural and spiritual are woven together in a love story created for the eyes, heart and soul. I never would have guessed that a film about beetles could have swept me away in this fashion. It's small, it's powerful, it's well made, and it's heavenly.
9. Lourdes.
What is healing? Who is worthy of it, and why? Do miracles still happen outside of anomalies in science and nature? Does God exist, favoring one physical location? Can we verify the authenticity of those who claim He's brought a miracle, and do miracles only happen in that one physical place? Lourdes tackles all the tough questions, and breaks through with such a restrained, feminine touch that metaphysical questions like this lead less to anger than to a gentle, tender probing. A nuanced performance by Sylvie Testud as wheelchair-bound Chrstine on pilgrimage and a dip into sacred territory by writer/director Jessica Hausner make this examination of devotion to faith a noticeable standout as one of the year's best films. The intersection between science and religion has made its way into film since
Frankenstein
(1931), and at the end of
Lourdes
we're still trying to figure out whether God is the benevolent healer, or a monster in the heavens watching nature play its cruel tricks.
8. Winter's Bone.
In a stellar performance, Jennifer Lawrence plays Ozark mountain girl Ree Dolly, in a film about a missing dad, a not-all-there mom, the need to keep food on the table for two younger siblings, and a swarm of the locale's meth-makers Ree is constantly at odds with. The story puts her on a journey against nature, both that of the mountains and that of her own blood, her own family, who she must struggle against as they wallow in greed and beat her down, uncaring, as she faces the absence of her dad and the loss of her home. It has one of the greatest scenes I've seen this year, a horrifying boat trip to a secret location at night. What they find there is enough to send shivers up your spine. What's done with what they find is as practical as it is insane. The film is gut wrenching and quiet at the same time, Lawrence's unflinching performance worthy of an Oscar nomination at the least, but it wouldn't be beyond the Academy's scope to award her with the win. It's a harrowing, willful and even maternal performance in which a single teen character survives by instinct, wit, and endurance.
7. Dogtooth.
There's often one film on a film lover's list he or she can't really recommend, and in some cases doesn't even want to talk about, but it's there because it should be, because it is all consuming in burning the fueled truth at its core. This year,
Dogtooth
is that film on my list. The Greek tragedy is built on intense paranoia. A lying father who keeps his wife, son and two daughters enclosed in a self-created world in his sealed and surrounded home stands as a symbol of authoritarian governance; it is a traditional message told in an extremely non-traditional, dare I say "hardcore" way. Take that however you want. Surrealist expressionism drips through every edgy angle, but some of these angles are downright dangerous to see -- need I say, and I'll say it again, this is not an easy film to watch. But its Lynch-like ethos and unabashed energy clearly separate it from any film in 2010; it's exceptionally well made, but perhaps the hardest film to watch from last year.
Layered performances and electrifying dialogue make this one of the best U.S. releases this year. Trent Reznor's pulsating score cranks it up even another notch. Fincher and writer Aaron Sorkin have created a masterpiece of post-modern cinema, a creation myth of the social order, perfectly capturing the need for human connectivity against egos that feed into betrayal and isolation. Jesse Eisenberg, Andrew Garfield, Justin Timberlake and Rooney Mara (who will be our American "Girl with the Dragon Tattoo" -- and I'm hoping Reznor will show up with her in that film, too) relate a thrilling drama with fast talking characters representing the strange paradoxes found in social connectivity on the web, where you can be a jackass if you want to, but it's not the wild wild west, and your actions have consequences that might stalk you.


5. Vincere.
There are quite a few great things about Vincere that make it one of the two Italian art-film masterpieces on my list this year. The first is that you don't have to understand all of its politics to fall in love with it. It's the story of a man (a dictator, with a strong emphasis at the film's onset on the "diction" in that word) and his mistress, whom, when things get ugly he has enough power to lock away. It has gripping, emotional, over-the-top performances which border on the edge of old school expressionism. But if the performances walk a line in that direction, the cinematography and editing fully tip the film over the edge. Vincere easily wins my pick this year as the most gorgeous film to look at -- from dramatic choices between the mobile and fixed camera to the archived scenes it seamlessly weaves in, its technical development is a tour de force -- and as bold as the acting the film captures. If you missed Vincere in its theatrical run, I strongly recommend it on blu-ray with a large, flat screen, and subwoofing, surround sound speakers. The images and sound here want to be deeply felt and mesmerizing.


4. I Am Love.
If
Vincere
was an Italian motion picture delight, then
I Am Love
is the country's motion picture painting. Like brush strokes on a canvas, my memories of
I Am Love
tend to think of it in light-reflecting stills: cubism, in the film's intro as a large family sits in a rich mansion around a rectangular dining table with servants and all; freedom in spirals as central character Emma (Tilda Swinton) begins breaking free of the family hierarchy (we even see a spiral in the pinned up hair on the back of her head); and finally a frenzy of kinetic energy, almost like a Pollock but remaining in motion, as trauma breaks in and the family splinters, each left to face their own tough decisions. The acting is voracious, especially in the film's end, and the score, boisterous as it bellows. The Italians brought the power this year with
Vincere
and
I Am Love
. These are ferocious films that do not back down.
3. The Secret of Kells.

History and fantasy collide in what might be the most unique animation since
The Triplets of Belleville
, in 2003. The lush, hand drawn pictures of fanciful fairies and solemn but comical monks make use of interior (behind village walls) and exterior (forest) imagery in finding and brilliantly illuminating the sensuous, spiritual nature of life. The characters are bonded together in a quest to create The Book of Kells, which the film doesn't fully describe, but is very real in its artistic rendering of the four gospels. If you ever have an opportunity to see this on the big screen, don't pass that opportunity by. This is what the big screen was made for. The characters here are so charming and full of life, and the book and the forest personified with their secrets. The creation of a (figuratively) living and breathing book is an idea perfectly suited to this form; the quest for ink is a pulsating delight.
2. Forbidden Fruit.
This is a somewhat restrained coming of age story centered on Finland's Laestadian (Lutheran) sect, a faith-based community of Biblical literalism, and 18 year-old Maria, now old enough to decide for herself whether she'll remain in the community she grew up in or move to the city to live. While she's been taught to believe in the God-based, family values at the heart of the communal focus, a move to the city represents temptations from the "Arch Fiend," in boyfriends, drinking and dancing. Maria's friend is sent to track her down and guide her through this transitional phase, and most of all to call her to her roots, to urge her to come back home, to give up the city and its allure. But the film explores more than just themes of body/spirit or country/city temptations. The idea is that a friend will follow you anywhere, even to the heart of a strange city you can't possibly know how to deal with -- that your friend is one who will struggle with you, that she'll aid you in the hard times -- and that quite possibly the two of you will both change in unexpected ways because of what you've been through together. The strict religious ideals and how the two girls learn of its value make this an easy pick for my Top 10 this year. It's a heartwarming tale, but ends on a note that is... well, it's complicated. But I've a feeling that no matter what approach the two girls take to daily living, they won't be separated from a faith that is more resilient than anyone thought. This is a beautiful, quiet, carefully crafted film, rich with longing, friendship and spirituality. I honestly can't wait to see it again.
1. The King's Speech.
Rarely does a film overwhelm me like
The King's Speech
did. I guess I'm topping my list with pure emotion, because this one easily brought the most emotional response from me this year. Yes, I wept like a blubbering little baby -- snotty nose, tissue in hand, et al.
I couldn't help it, though -- the film is a friendship driven, heart-warming story about overcoming obstacles and getting the help you need in the process. It almost has "Viewer's Cry" built into the script. With perfect, genius performances from the most talented cast of the King (Colin Firth), the Queen (Helena Bonham Carter) and the Commoner (Geoffrey Rush), I'll be rooting for
The King's Speech
today when the Oscar noms are announced, and I hope to be rooting for it in late February as well. It's quite easily my favorite film pick of the year, and I'm thinking that even objectively it might be one of the best. Everything about this story and the way it is handled and told is superb -- it just doesn't get any better.
And Here Are Some Apologies...
Apologies to a comedy that made my sides split (
A Film With Me In It
), a tranquil psuedo-doc of three generations fishing in the warmth of the blue-green ocean (
Alamar
), and apologies to two trilogies, both of which I'm certain I'll return to, likely more than once each:
The Millennium Trilogy
(
The Girl With the Dragon Tattoo
,
The Girl Who Played With Fire
, and
The Girl Who Kicked the Hornet's Nest
), and
Red Riding Trilogy
(
1974
,
1980
, and
1983
). Each of these as a whole (but particularly
Red Riding
) rival the films on my list above; however, I'm unconvinced a given film in either trilogy stands up to the list on its own.
Other apologies:
35 rhums
and
The White Ribbon
. I've come to accept that you were 2009 releases -- otherwise you'd probably make the list.
Forgive me, too:
Shutter Island
,
Catfish
,
Only When I Dance
, and
The Wind Journey
s: You are all very good in your own right, each one of you better than an average weekend trip to the movie house, but not strong enough for an entry into the ten. I love you, but, sorry.
AND HERE
is a special paragraph dedicated to a film I saw and hated, one that I wish I could come to terms with all the lavishing of love, a critics' delight. It is the most regretful of my 2010 non-admissions because its director is one of the most respected in the history of cinema. The film is
Wild Grass
, and it bugs me to no end that I can't connect with it. But I don't. I found sitting through it to be an excruciating, almost unbearable experience. Still, I'm swearing on oath right here and right now to see it again sometime this year; perhaps this regret will turn into redemption.
WHAT I HAVEN'T SEEN
:
Animal Kingdom
;
Carlos
;
Eccentricities of a Blonde-haired Girl
;
The Kids Are All Right
;
White Material
;
Secret Sunshine
;
Temple Grandin
;
Another Year
;
Stone
;
Blue Valentine
;
Get Low
;
Never Let Me Go
;
Rabbit Hole
;
Somewhere
;
Please Give
;
Of Gods and Men
;
The Tempest
;
Nowhere Boy
;
Jack Goes Boating
;
Buried
;
Devil
;
Enter the Void
;
Cairo Time
;
Ondine
;
My Son, My Son, What Have Ye Done
;
A Woman, A Gun and a Noodle shop
;
The Good, The Bad, The Weird
;
Four Lions
;
Double Take
;
L'illusionniste
;
Last Train Home
;
Marwencol
;
Boxing Gym
;
Wasteland
;
Lebanon
;
Cave of Forgotten Dreams
; and
45365
, which I have a vested interest in -- I lived in this zip code for over three years.
(Edited to strike out films as I go.)
The list of what I haven't seen is telling in that it's virtually impossible to make an objective Top Ten. When one makes a list like this, it always has to be a list of their own personal faves -- nothing more, nothing less. No matter how many films you've seen, there are hundreds you missed, especially if you're like me and choose to view globally as much as locally.
Top Five English Language Films
... (that Didn't Make My Top Ten)
5. Exit Through The Gift Shop
. This is an art-inclined prankumentary that I just love blathering on about. Like
F For Fake
, Welles's art fraud concoction from the seventies, you don't always know whether the joke is on you or even if a real joke is being played. (Obviously, this is Banksy, and mischief abounds in bundles.) I had a riot laughing at the preposterousness of this "documentary". There's a constant wry smile hidden somewhere if you look.
4. 127 Hours
. Oscar winning director Danny Boyle uses his signature devices of frenetic editing, split screens, and nightmare sequences of a character isolated in a rocky Utah crevice, his arm trapped under a rock. The film is worth seeing for the first ten minutes alone, in which the tone of an adrenaline junkie is captured perfectly, and Free Blood's electronic "Never Hear Surf Music Again" cracks off the best opening moments in a film in 2010. It's a survival movie at heart, though, with a feel-good ending and a character that has learned a tough life's lesson.
3. Black Swan
. Anyone who knows me or has previously visited Filmsweep knows of my love for Darren Aronofsky. I love his independent, get it done spirit, his twisted energy for the form, and how he confounds the eye and mind with imagery. In that respect,
Black Swan
is no different from other Aronofsky films like
Pi
or
Requiem For a Dream
. These are fever dream films where characters are soaked in trauma, but without Aronofsky's flight-like mise en scène here, or his blistering, rapid eye montage in general, his stories would never come across as gut wrenching as they do.
Black Swan
easily wins an Oscar this year for Best Cinematography, and expect Natalie Portman to get nominated for leading lady in the role of a ballerina on the brink of artistic destruction. I'm also leaning toward expecting her to win.
2. The Ghost Writer
. This is simply a great political thriller, with Ewan McGregor and Pierce Brosnan in subdued roles at their acting best. I've gone back to it more than once already this year. It rather reminds me of the old Jack Ryan films with Harrison Ford. It's got a noir-type conspiracy feel, a surprise that comes out of left field, and a killer ending which leaves behind one of the most perfect final visuals in a film this year, and in terms of triumphant narrative (read: linear) stories, it might be the best in the lot.
1. Inception
. Well, my mind is still scrambling over
Inception
, and that's a good thing -- I think. When I first saw it in the theater, it may have been too much to take in. It's screaming, furious visuals accompanied by a story that takes place in dreams -- and dreams within dreams, and dreams within dreams within dreams -- is a mind job, like an original viewing of
The Matrix
years ago. This ranks not only as one of the best of the year, but as a guilty pleasure I know I'll go back to many times (in fact I already have). I think of it like a Bourne film -- I love watching it develop and trying to put all the right parts in their place, but as with memory there, dreams here can be a little discombobulating. And that's the fun of it.
And Finally... To Wrap Things Up...
FAVORITE NON-2010 DISCOVERIES
(I fell in love with in 2010):
The Song of Bernadette
;
The Secret of the Grain
;
Stalker
;
Stroszek
;
Tender Mercies
;
Make Way For Tomorrow
;
Fraulein
;
Battle in Heaven
;
Come and See
;
The Virgin Spring
;
Nénette et Boni
;
Trouble Every Day
;
The Song of Sparrows
;
The Willow Tree
;
Seven Pounds
;
Brick
;
Ink
;
Lars and the Real Girl
... and a wealth of films by Pedro Almodóvar, the greatest being
Talk To Her
,
Volver
, and
Broken Embraces
.
For me, 2010 was a stellar year for a film buff.
Next year I vow to see more films. :)