A friend of mine recently suggested I've been watching too much glacial cinema. I responded that it's not all I choose to see, but what I find most interesting to write about. There are too many films stuffed with Too. Much. Stuff., and watching an overstuffed film sometimes feels as busy as the rest of everyday life. Contemplative cinema slows me down. It reminds me of days of quiet reflection, being wrapped up in the majesty of a stirring worship service. Quiet reminds me to breathe, to find a center. It helps me relax and fall into reflection. (And sometimes sleep.)
But it's not all I choose to see, and the following four entries are proof. I've seen each of these in the past few weeks; each is enjoyable in its own right. So it's time to get loud and proud. These are the films of Rock and Roll!
Almost Famous. (2000) Cameron Crowe
Most people know Cameron Crowe for the famous films he has directed, films like
Say Anything
,
Singles
and
Jerry Maguire
. I would imagine there are quite a few of us in the under-40 crowd that don't know where he got his start. Beginning at the tender age of fifteen in the early to mid-70s, Crowe was a field writer for Rolling Stone magazine. He travelled all over the states with bands like The Allman Brothers and Fleetwood Mac and Led Zepelin. I still can't figure out how a 15 year-old gets a job like this -- I don't think I can figure out how anyone anywhere gets a lollipop job like this! -- but the film, which loosely constructs some of the actual events of Crowe's exciting early years of on-location, even on-tour reporting, suggests he misrepresented his age on the phone to a Rolling Stone editor, ending up on the magazine's payroll, immediately thrust into the lifestyle of rock and roll.
The film stars Patrick Fugit, who came out of nowhere to make himself known as William Miller, Crowe's imaginative retelling of himself as a teenage rock journalist about to break into the big time. Kate Hudson turns in a powerful performance as Penny Lane, a mysterious "band aid" (not groupie!) that is the elusive girl you always dreamed of but wish you hadn't. Zooey Deschanel, Billy Crudup and Philip Seymour Hoffman are all stellar in the cast, too -- in fact, the entire ensemble comes together powerfully in this little film that I overlooked from a decade ago. Great live music, chilling scenes of what it is to desire fame and to hang out with those who become famous, and one stand-out scene of a near death experience turned confessional keep the film as fresh as when it was originally released and well worth a second look today.
The Runaways. (2010) Floria Sigismondi
Think Oliver Stone's
The Doors
(in my limited understanding, the best rock biopic), but switch in a coming of age story and a pro band consisting of teenage girls, and you've got an idea of what you might see in
The Runaways
. With Kristen Stewart playing tough, young and ready-to-rock Joan Jett, Dakota Fanning playing the mysterious, seductively cool lead singer Cherie Currie, and Michael Shannon as their true-to-life outrageously abnormal manager Kim Fowley, the story launches into Rockland like the amps are turned up to eleven. Based on Currie's memoir, "Neon Angel," we follow how Fowley put this chick band together and put them on the road, never coming with them in the process. Coming from torn up homes and a desire to rise above, the girls drilled away at their skills and found a way into talent, and success came knocking on the door.
It works great as a rock biopic, but even better as a story about lost souls on the road trying to find the home that's missing, the family that has eluded them. They are searching, longing for that thing they never had -- and at an age with hormones raging and the desire to find the place that feeds and quenches the fire. Many of the places they find do feed and quench but leave them empty in the process. Lust and power never seem to fulfill on their promises, but we all need to find a sense of family, somehow.
Currie had to move on. Jett stayed at the game and wrote, "I love Rock and Roll," solidifying her home in rock and roll culture.
The DVD commentary is interesting in that Jett hangs out with Fanning and a potty-mouthed Stewart for the conversation as they watch the film. It is worth it just to hear Jett
not
talk about certain scenes.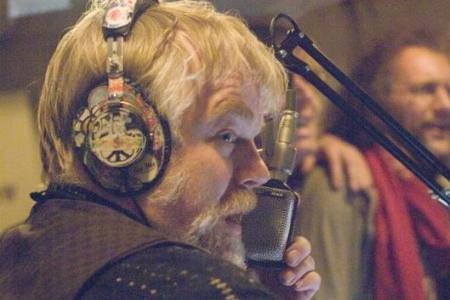 Pirate Radio. (2009) Richard Curtis
The most cheesy of the lot, it still has Philip Seymour Hoffman. I mean -- does any film really need anything more than that? It kind of reminds me of a cross between
High Fidelity
and
School of Rock,
if the two were filmed together on a big boat off the coast of Great Britain.
No doubt much license is taken, but the film is based on real events. UK radio only alloted thirty minutes of rock and roll running time per day in the mid-sixties. Large boats running pirate DJs threw anchor off the coast, where they couldn't be arrested for broadcasting on British soil. They cranked up the tunes, firing signals to every land-locked citizen in need of rocking out. According to the government at the time, they were guilty of corrupting the youth -- and probably quite a few elders, too.
It is a fun film, but a little too silly except for its historic subject matter. The only thing grounded in reality is what I've already described. Otherwise you can take the idea and add really anything you want, from all the pointless sex on the boat, some of which may have happened but it is mainly shown in its glorification, to the behind the scenes government drama to shut these boats down, to the dramatic rescue of the sinking boat that we've been following -- a rescue which shows government neglect in hope of the death of the floating DJs, and British youth coming to the rescue in what are probably the boats of their parents. Yeah, don't think I can believe all that.
And its idea that rock and roll is going to save the planet is also like having a carrot cake for your birthday party. But like I said, it is a fun film, blending the borders of music and morality, showing perhaps a bit of hypocrisy on both sides of the question, and enjoying itself in the comedic way it makes its point. In my thinking it is good to see mindless oppression confronted --
Pirate Radio
is a relatively good example of this. (And the good guys win.)
Metallica: Some Kind of Monster. (2004) Joe Berlinger and Bruce Sinofsky
A reality film created from the recordings of Metallica's eighth studio album, "St. Anger," an album which took over two years of in-band feuding and countless therapy sessions to create, the doc almost got me to actually buy the CD. (I've never bought a Metallica CD. I'm still thinking about this one.) It is a decent film, albeit a bit long. But watching members of the band visiting the sweater-wearing therapist make you think twice about the great life of being a rock star.
Joe Berlinger directed
Metallica: Some Kind of Monster
a few years before he flew to Ecuador and filmed
Crude
. Berlinger seems to get better and better at documentary filmmaking. Let's hope the
recent lawsuit from Chevron
doesn't stop him from even higher heights.
There is no doubt the film changes the way I see the band. They've taken some of their mystery and anger away and let us see a side of their reality, their humanity. It's great to see the rock stars let down their guard and show us how similar they are to the rest of us. God bless the band as they continue to work things out.