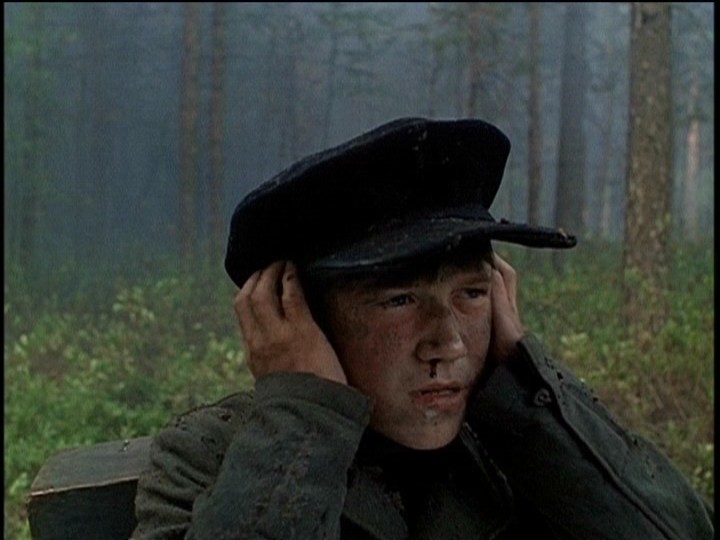 A few weeks ago I picked up a copy of The Chicago Sun-Times and found
Ebert's review
of
Come and See
in printed form. I think he first wrote about it for his book, "The Great Movies." His review piqued my interest for a film I'd never heard of, and I knew this tough Russian war story would quickly make it to my Netflix queue.
On that site,
Come and See
was one of the easiest five-star ratings I've given. The film masterfully accomplishes what it sets out to do. There isn't a false note in it. But that doesn't make it an easy film to take in.
It's the story of Nazi infiltration of the Soviet republic of Byelorussia, and a young man Florya and how the war changes everything about him. In a devastating performance, actor Aleksey Kravchenko is transformed even physically from a boy longing to join the defense in pursuit of war's glory, to a completely annihilated shell of a soldier -- beaten, wrecked, mentally disfigured.
There are war films that seem to glorify the battle action, showing every bullet and every point of entry -- but some are as honest as they are distressing, and they can only be classified as anti-war.
Come and See
is such a film, classified on Florya's face as easily as it is classified in the harrowing, blood saturated script.
In terms of film comparison I thought of the personification of the landscape and the brute poetry of
The Thin Red Line
. In bizarre, trippy moments I remembered the surfing-under-attack and drug-induced-bridge sequences of
Apocalypse Now
. I haven't seen
Stalker
-- I'm hoping to change that soon -- but I was also reminded of Tarkovsky's
The Sacrifice
, which was released only a year after
Come and See
. It's as fierce as
Platoon
, but as fiercely Russian as any Russian film I've encountered.
Adrian Danks at
senses of cinema
has some
incredible insight
to
Come and See
. I can't add much to his outstanding writing, but let me stress for a moment the wonder of the film's sound.
Florya is accused at various points of dealing with the onset of deafness, which could actually be attributed to an early scene in which he dodges falling bombs. Sonic shifts give us insight to how he hears -- from muted panning screams to the impact of an explosion that's scorched and muffled, and more quiet than it should be. Panic becomes another character in the film, and sound is its contribution to the dialogue. Marching armies, stampeding citizens, the enemy's triumph -- it all plays a crucial part. How Florya hears widens his perception of the story's trauma. The hyper-expressive sound in
Come and See
is riveting, terrifying to take in, and when heard through the ears of one entrenched in the insane, it brings a forcefulness that astounds and sometimes overwhelms the senses.
If I ever have the opportunity to see it in a good theatre with bellowing speakers, I won't hesitate to change my plans for this crunching mind-melter of a film.